Forged Fitting
Forging is a processing method by use of forging press put pressure on metal blanks, making it produce plastic deformation in order to obtain certain mechanical properties, a certain shape, and sizes. Forging can eliminate the as-cast loose defect produced during metal smelting process, and optimize the microstructure. Meanwhile, because of the intact metal flow, the mechanical properties of forging will be better than that of castings in the same material. Casting is the process where metal is heated until molten. While in the molten or liquid state it is poured into a mold or vessel to create the desired shape. Forging is the application of thermal and mechanical energy to steel billets or ingots to cause the material to change shape while in a solid state.

Main forged fittings include Elbow, flange, tee, union, coupling, etc.

Main standard: American standard ANSI, German standard DIN, Janpanese standard JIS and Chinese GB/T, etc.
Types of Buttwelded Fitting:
Forged Tee
Forged Elbow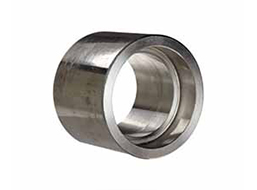 Forged Couplings
Forged Cross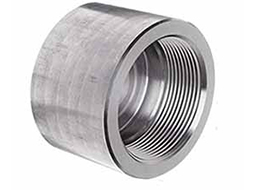 Forged Caps
Forged Reducers
Forged Bushing
Forged Plug
Forged End Connection
Specification of Forged Fittings
| | |
| --- | --- |
| Particulars | Specification |
| Forged Fittings | Socket Weld Fittings : Elbow 90 Deg , Cross , Tee , Elbow 45 Deg , Coupling , Half Coupling & End Cap. |
| Schedule | SCH20, SCH30, SCH40, STD, SCH80, XS, SCH60, SCH80, SCH120, SCH140, SCH160, XXS |
| Size | 1/2"NB TO 48"NB IN |
| Type | 90, 45, Tee, Cross, Coupling, Reducing Coupling, Bushing, Cap, O'Let. |
Grades We Deal in Forged Fittings: